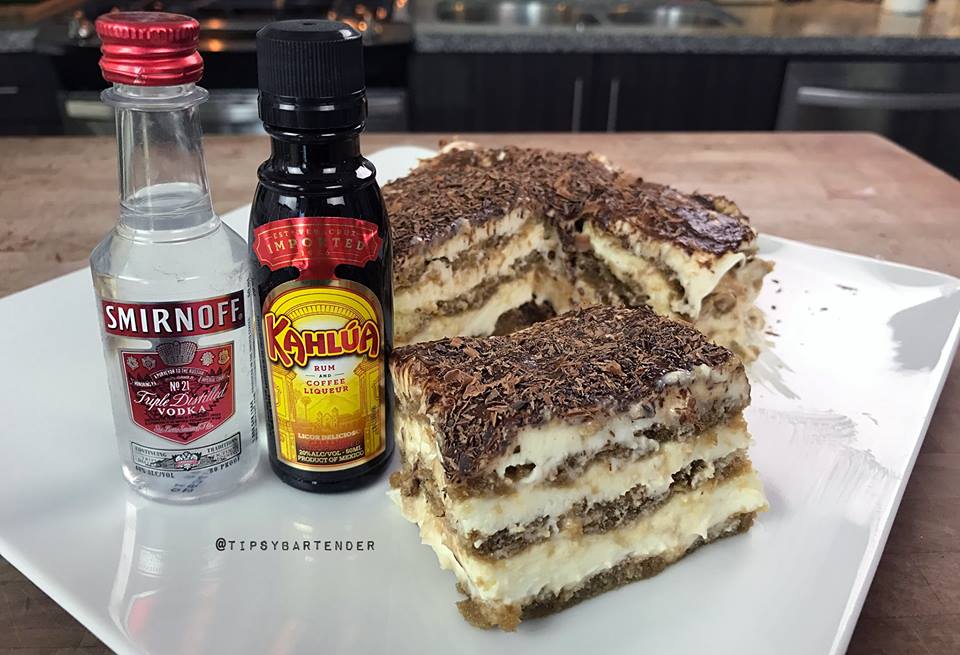 Cocktails
Tipsy Tiramisu
By
|
Go crazy with this one, our Tipsy Tiramisu! Our Tipsy Tiramisu is made with Kahlua and Vodka!
Method:
Need a dish 7 inches x 4 inches approx
Beat the mascarpone with the sugar and vanilla.
Beat egg whites until stiff with a pinch of sugar.
Fold egg whites gently into mascarpone mix.
Mix the coffee / room temp with the Kahlua and vanilla vodka.
Dunk the lady fingers into the coffee mix until it just absorbs some of the liquid, but not for too long or they will break and be too soggy.
Place the soaked sponge fingers into the bottom of a dish and cover the bottom.
Place a Layer of the mascarpone on top and smooth down.
Then another layer of soaked sponge fingers, and keep going until you have used all the ingredients up, and made 2 / 3 layers.
The last layer should be the mascarpone, smooth over and sprinkle some cocoa powder and a few chocolate shavings on top.
Pop into the fridge for 2 hours or overnight.
Cut into squares and serve.
Ingredients:
2 cups mascarpone
½ cup fine white sugar
1 tsp pure vanilla extract
3 egg whites beaten until stiff
1 ½ packs of Italian lady fingers sponge
1 ¼ cup strong coffee
½ cup Kahlua
¼ cup vanilla vodka
Instagram Photo Credit Caroline Artiss

The Tiramisu delight is one amazing desert! Don't be fooled with how this drink look it packs a punch. Make sure to submit your favorite drinks and a picture to our Facebook, Instagram, or Website.