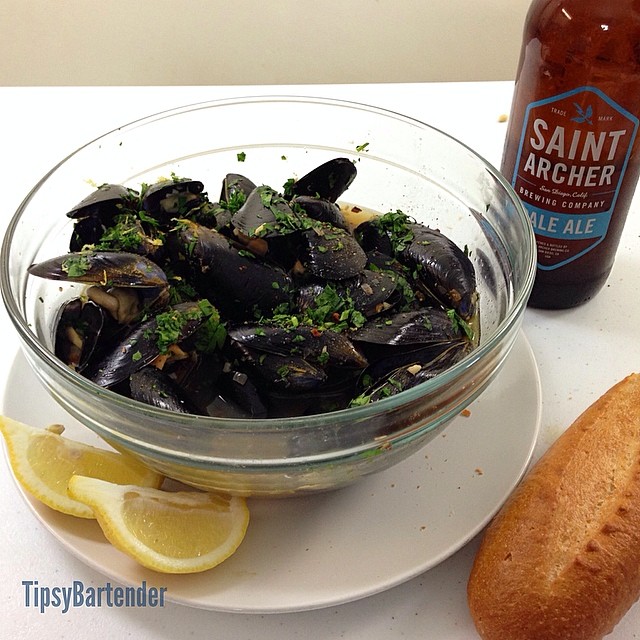 Content
DRUNKEN MUSSELS
By
|
Drunken Mussels are made with Nathaneil from the Prince and Pantry as well as Kelsey from Tipsy Bartender. This is one of the only drunken foods you can make that will still contain all the alcohol. Drunken Mussels are made from: Butter, Shallots, Garlic, Lemon, Beer, Red Pepper Flakes, Mussels, Parsley, Lemon, and Bread.
1. Rinse, debeard, and scrub your mussels well. Drain and set aside.
2. In a deep skillet or pot, melt the butter over medium heat.
3. Sauté the shallots and garlic until fragrant. Be careful not to burn the garlic. Add red pepper flakes to taste.
4. Add in the mussels and the beer. Cover and cook just until the mussels open up.
5. Turn off the heat and season to taste with salt and pepper.
6. To serve, top with fresh lemon zest, chopped parsley, lemon wedges and pieces of toasted crusty bread.
3 T Butter
1 T Shallot Minced
3-4 Garlic Cloves Minced
1 Lemon, Zested
12 oz. Pale Ale or your favorite beer
1 tsp Red Pepper Flakes, Optional
2 lbs. Mussels
A Handful of Flat Leaf Parsley, Chopped
Lemon Wedges, To Serve
Crusty Bread, for dipping