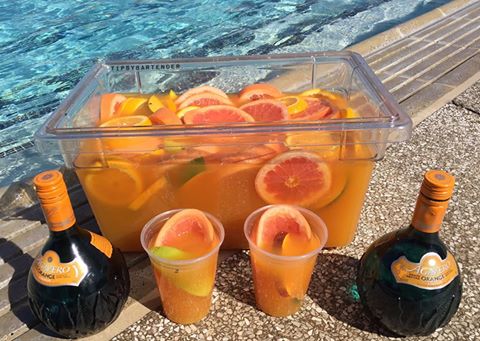 Citrus
Tropical Jungle Juice
By
|
Take a look at our unbelievably amazing and humongous Tropical Jungle Juice! Our Tropical Jungle Drink is made with Vodka, Tropical Punch, Passionfruit, Mangoes, and Grapefruits!
2 Bottles Agravero Orange Liqueur
1 Bottle Mango Vodka
1 Bottle Orange Vodka
1 Bottle Apple & Pears Vodka
1 Bottle Pink Grapefruit Vodka
2 Bottles Tropical Punch
1 Bottle Passionfruit Juice
1 Bottle Mango Nectar
Grapefruit Slices
Orange Slices
Mango Slices
Passionfruit
The Tropical Jungle Juice is a gigantic monster drink! Don't be fooled with how this drink look it packs a punch.