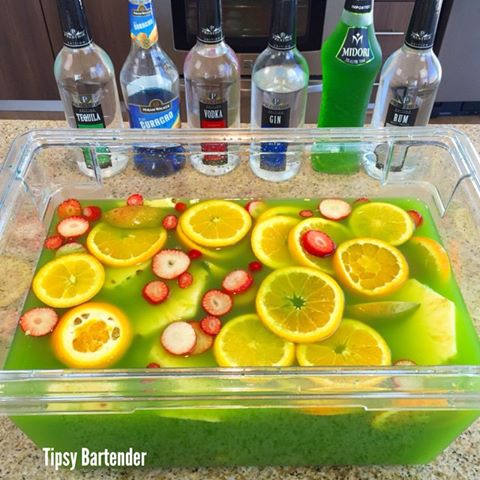 Featured
St Patricks Day Jungle Juice
By
|
Make it a crazy night to remember with our St. Patrick's Day Jungle Juice! Our St Patrick's Day Jungle Juice is made with Rum, Gin, Tequila, Vodka, Blue Curacao, Melon Liqueur, Pineapple Juice, White Peach Cranberry Juice, Mango Nectar, Mangoes, Strawberries, Oranges, Pineapples!
 Ingredients:
1 Bottle Rum
1 Bottle Gin
1 Bottle Tequila
1 Bottle Vodka
1 Bottle Blue Curacao
1/3 Bottle Melon Liqueur
1 Can of Pineapple Juice
1 Bottle White Peach Cranberry Juice
2 Bottles Mango Nectar
Mango Slices
Sliced Strawberries
Sliced Oranges
Sliced Pineapples
Celebrate St. Patrick's Day the right way… ST. PATRICK'S DAY JUNGLE JUICE! It'll knock you back!