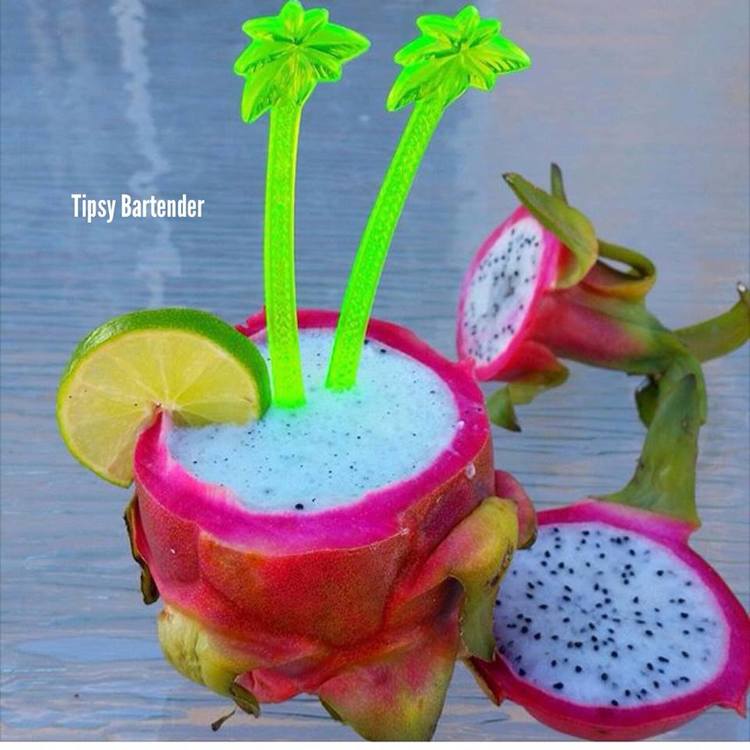 Citrus
Dragons Colada Cocktail
By
|
The Dragons Colada Cocktail is a super sexy drink served inside a dragon fruit.
To prepare your dragon fruit cut the top off with a knife, then put both aside as a garnish.
Then slice off a bit of the bottom to create a level base.
Take your spoon and gently scoop out the meat from the inside of the fruit leaving enough shell to create a cup.
Add the dragon fruit meat to a blender and pulse until pureed.
Add the pureed dragon fruit to your cocktail shaker then fill shaker with ice.
Pour in the Bacardi rum, coconut rum, coconut cream, pineapple juice and shake until chilled.
Pour into your hollowed out dragon fruit, garnish with a slice of lime and serve.
Ingredients:
1 oz.(30 ml) Bacardi Dragon Berry Rum
2 oz.(60 ml) Coconut Rum
1 C. Dragon Fruit, Cubed
1 oz.(30 ml) Coconut cream
2 oz.(60 ml) Pineapple juice
Lime Disc
Ice